The culinary in the salt pans in the Museum of salt making
The project that aims to protect and revitalize the important heritage of our region, was created in cooperation of different local institutions: Italian Community in Piran, the Italian community "Giuseppe Tartini" Piran, Institute for the Protection of Cultural heritage of Slovenija, Maritime Museum "Sergej Mašera" Piran, Pirano, Strunjan Nature Park, Sečovlje Salina Nature Park.
With the presentation of saltworks cuisine we want to contribute to protecting and preserving the heritage of salt making.
Due to circumstances related to covid-19, the first two events of the project were online. The first event was dedicated to baking bread and the second to the preparation of artichokes.
More:
https://pomorskimuzej.si/en/events/2020/05/11/the-culinary-in-the-salt-pans
https://pomorskimuzej.si/en/the-fun-corner/the-culinary-in-the-salt-pans-bread
https://comunitapirano.com/articiochi/
At the third event, which was held on 20 June 2020 at the Museum of Salt making in the Fontanigge, part of the Sečovlje salt pans, the preparation of bigoli with sausage was presented, which are known also due the local popular song "La mula de Parenzo".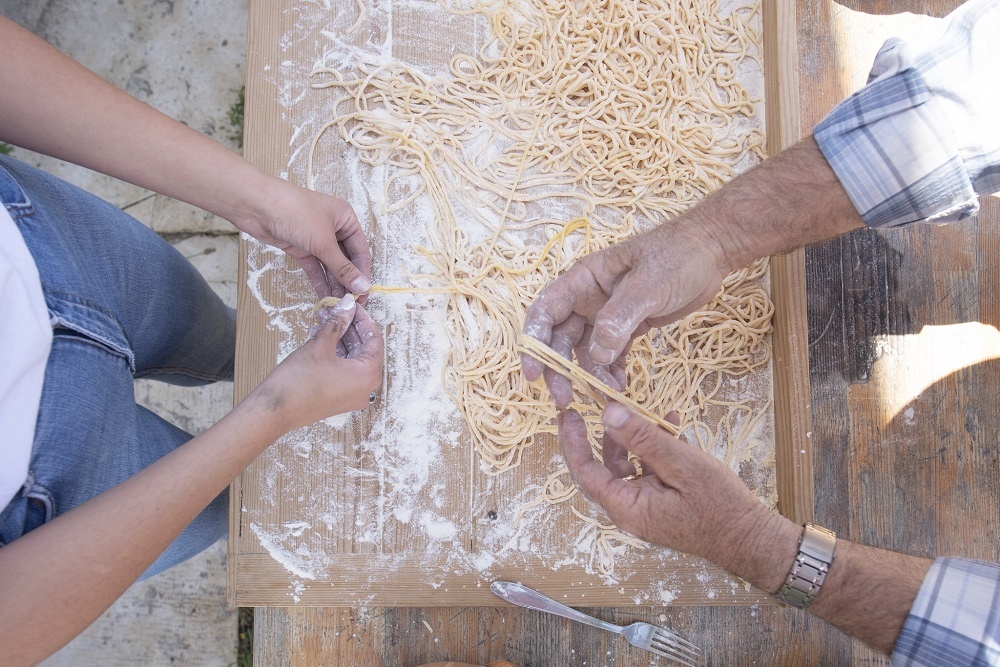 The event was attended by "La Famea dei salineri", a group, that since 2004 by participating in various similar events, presents and contributes to the preservation of the heritage related to the Sečovlje salt pans. The women's rowing group Voga Veneta Pirano that is reviving the traditional way of rowing in Venice, once typical along the western coast of Istria, also took part on the event.
Visitors were able to see the preparation of bigoli- a type of homemade pasta with sausage sauce and learned more about recipes.

Under the guidance of dr. Flavio Bonin they visited the museum's collection, which is currently closed to the public due to the abolition of state co-financing.

A pedagogical workshop of bread seals was also prepared by the curator Veronika Bjelica. Saltworkers used the seals to mark the bread, since in the Sečovlje salt pans it was often baked in common bread ovens. The participants made a terracotta pendant with the imprint of one of the seals kept in the Museum of salt making.
Photos: Jani Turk