The culinary in the salt pans
The project on the culinary in the salt pans which in addition to the analysis and presentation of the food, also includes their preparation.
The project, which aims to protect and revitalize the important heritage of our region, was created in cooperation of different local institutions: Italian Community in Piran, the Italian community "Giuseppe Tartini" Piran, Institute for the Protection of Cultural heritage of Slovenija, Maritime Museum "Sergej Mašera" Piran, Pirano, Strunjan Nature Park, Sečovlje Salina Nature Park.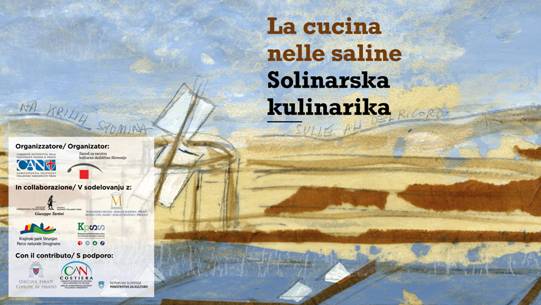 Presentations will take place in various places related to the saltworks heritage: in Piran, the Sečovlje Salina Nature Park - in the Museum of salt making in Fontanigge and Lera, the Strunjan Nature Park, in front of the Church of St. Jernej in Seča and in the former warehouse of salt Monfort in Portorož.
By presenting the saltworks cuisine that was an important part of life and work in the salt pans in Piran, we want to contribute to protecting and preserving the heritage of salt making.
The pedagogical and music program will be an integral part of the workshops.
The events will take place:
1. Sunday 26 April 2020 Piran, Tartini Theater Piran
Presentation of the project as part of the Feast of Saint George, Patron of Piran.
2. Saturday 16 May 2020 in Sečovlje Salina Nature Park, Fontanigge: Museum of salt making
We will present the preparation of the bread. From the dough, to the leavening, to the stamping and to cooking in the wood oven.
3. Saturday 30 May 2020, Strunjan Natural park
Preparation of artichokes as part of the annual Artichoke Festival in Strunjan
4. Saturday 13 June 2020 Sečovlje Salina Nature Park, Fontanigge: Museum of salt making
Preparation of homemade pasta called "bigoli".
5. Sunday 30 August 2020 in Seča, church of San Bortolo
Presentation of the project and preparation of the dish "sardele in šavor" (marinated sardines) and sardines in salt, as part of the feast of San Bortolo, organized by the Parish of Sicciole.
6. Friday 18 September 2020, Sečovlje Salina Nature Park, Lera
Presentation of the traditional corn soup "bobiči" in collaboration with local farmers.
7. Saturday 3 October 2020 Portoroz, former salt warehouse Monfort
Conclusion of the project and presentation of the project on the occasion of the European Heritage Days 2020.
In 2021, the European Heritage Days will be dedicated to gastronomy under the title "Gastronomic Heritage for All". On this occasion, we will present the most interesting parts of the project and a recipe booklet.